Simon Hogan - Lingka - 200 x 137 cm - 19-10 (sold)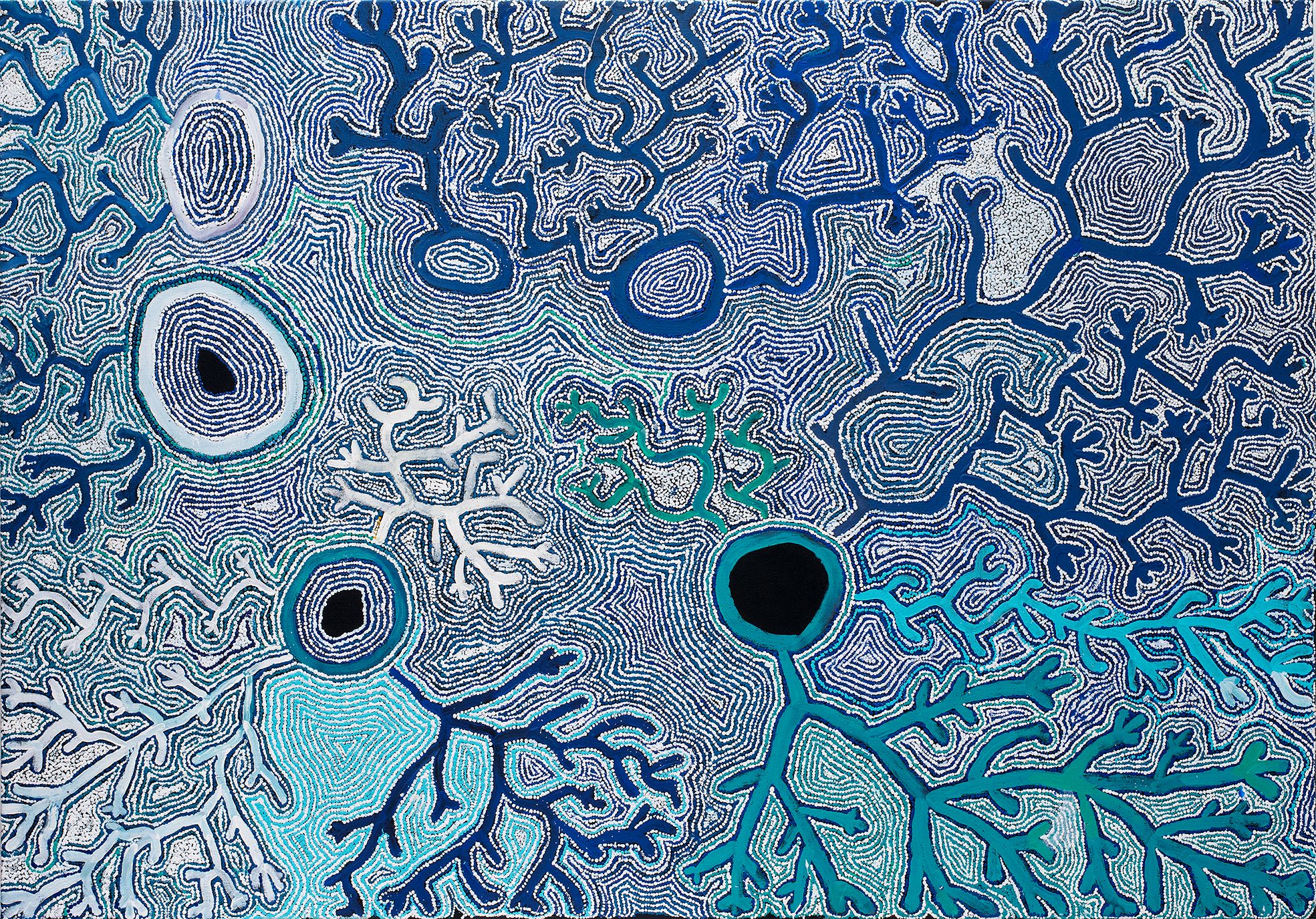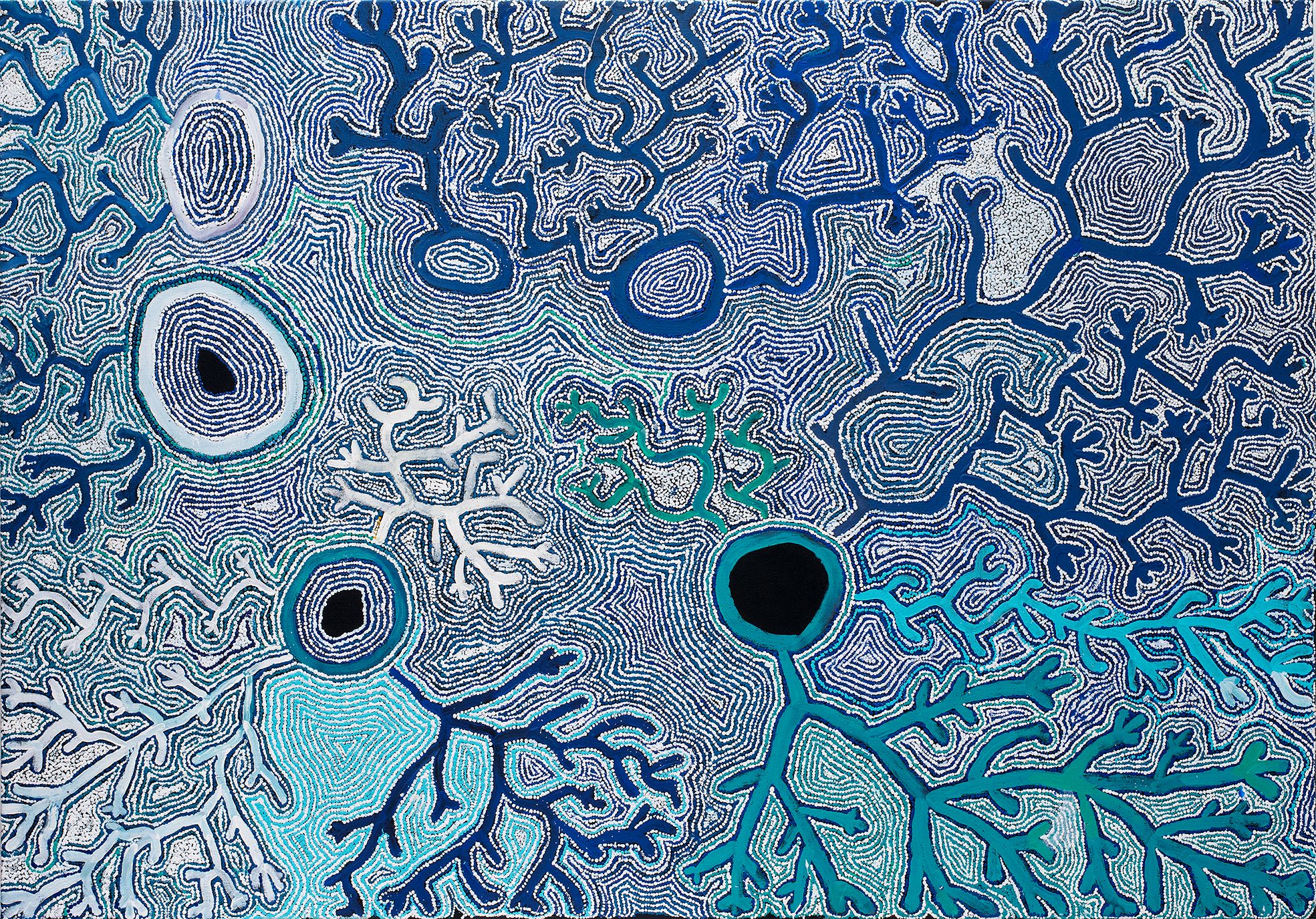 Simon Hogan - Lingka - 200 x 137 cm - 19-10 (sold)
Artiste : Simon Hogan
Titre de l'œuvre : Lingka
Format : 200 x 137 cm
Provenance et certificat : centre d'art aborigène du Spinifex Art Project
Référence de cette peinture : 19-10
Vendue
Explications pour cette œuvre :
Simon Hogan (1930) manifests his site of Lingka onto the two dimensional plane. When he paints, he transcends this world and is taken over soft sand ridges and vast Spinifex plains to the significant sites that formed him from birth. For Simon was born into a spiritual society where religion manifested in the immediate environment and where creation beings could move through different realms at will. It is these beings who shaped the landscape that Simon depicts and who left a moral compass that is still followed today. They gave to people the life giving water sites that were held with such reverence in an arid and remote land. It is these sites that were the means of survival and where religion unfolded in the form of sacred song and performance.
Simon Hogan was born circa 1930 in mid-western Spinifex between Paltju and Lingka. Simon's exact age is unknown as dates of birth were estimated by the A.E.M. missionaries when the Spinifex people, on arrival at Cundeelee, were "sorted" into family groups, given English names and approximate dates of birth. During childhood two fathers, one born at Warakunu and the other at Munki raised Simon. Simon's mother's country is around Tjulya. The Spinifex people were a relatively discreet southern Pitjantjatjara tribal group with 􀆟es to the north and east that lived a fully traditional hunter-gatherer life until the late1950's to early 1960s when most people either walked in to Ooldea and Cundeelee or were taken by AEM missionaries to Cundeelee Mission…
From 1995 Simon Hogan was a prominent member of a group of senior traditional owners from Spinifex country who lobbied the WA State Government for Native Title. Although Simon spoke no English he was a confident, initiated Pitjantjatjara man who spoke to senior government officials regarding ownership of country and culture. Exclusive Native Title rights were granted to Simon Hogan and the Spinifex people in 2000 of over 55 000 sq kms of the Great Victoria Desert in WA.
His artworks are in the following prestigious collections :
Art Gallery Of South Australia, Adelaide, South Australia
British Museum, London, England.
Harriet And Richard England Collection
National Gallery Of Australia, Canberra, Act.
National Gallery Of Victoria, Melbourne, Victoria.
Seattle Art Museum, Seattle, Usa. (Mens Collaborative)
Staatliches Museum Fur Volkerkunde, Munich, Germany
The Lepley Collection, Perth, Western Australia.
The Patrick Corrigan Collection, Sydney, New South Wales.
W. & V. Mcgeoch Collection
Western Australian Museum, Perth, W.A.
Artbank, Australian Government Collection. Australia.
Art Gallery Of Western Australia, Perth, Western Australia.
The Art Gallery Of New South Wales, Sydney, Nsw (Mens Collaborative)