Lindsay Malay - My Ganggayi Country - 100 x 80 cm - 356/18 (sold)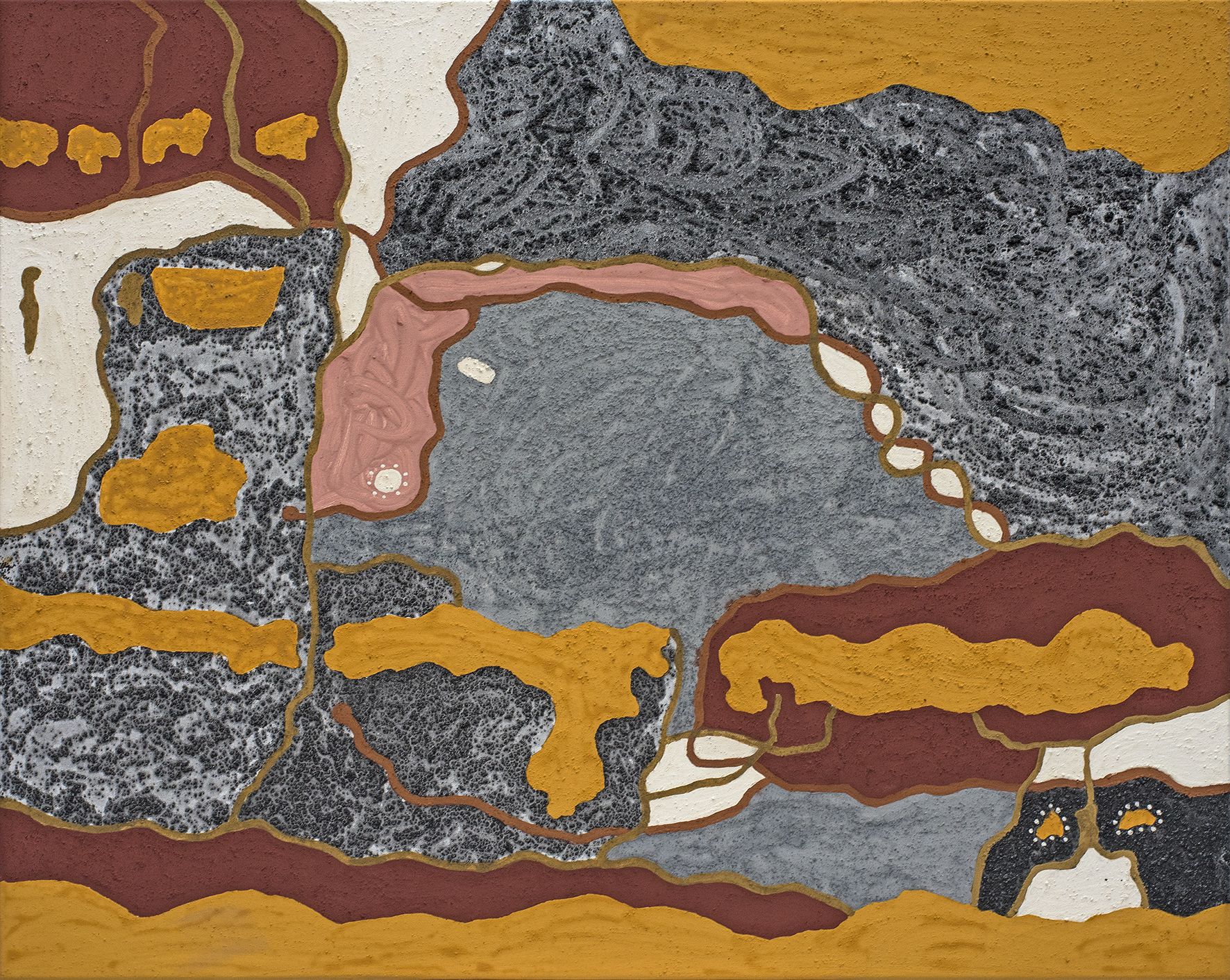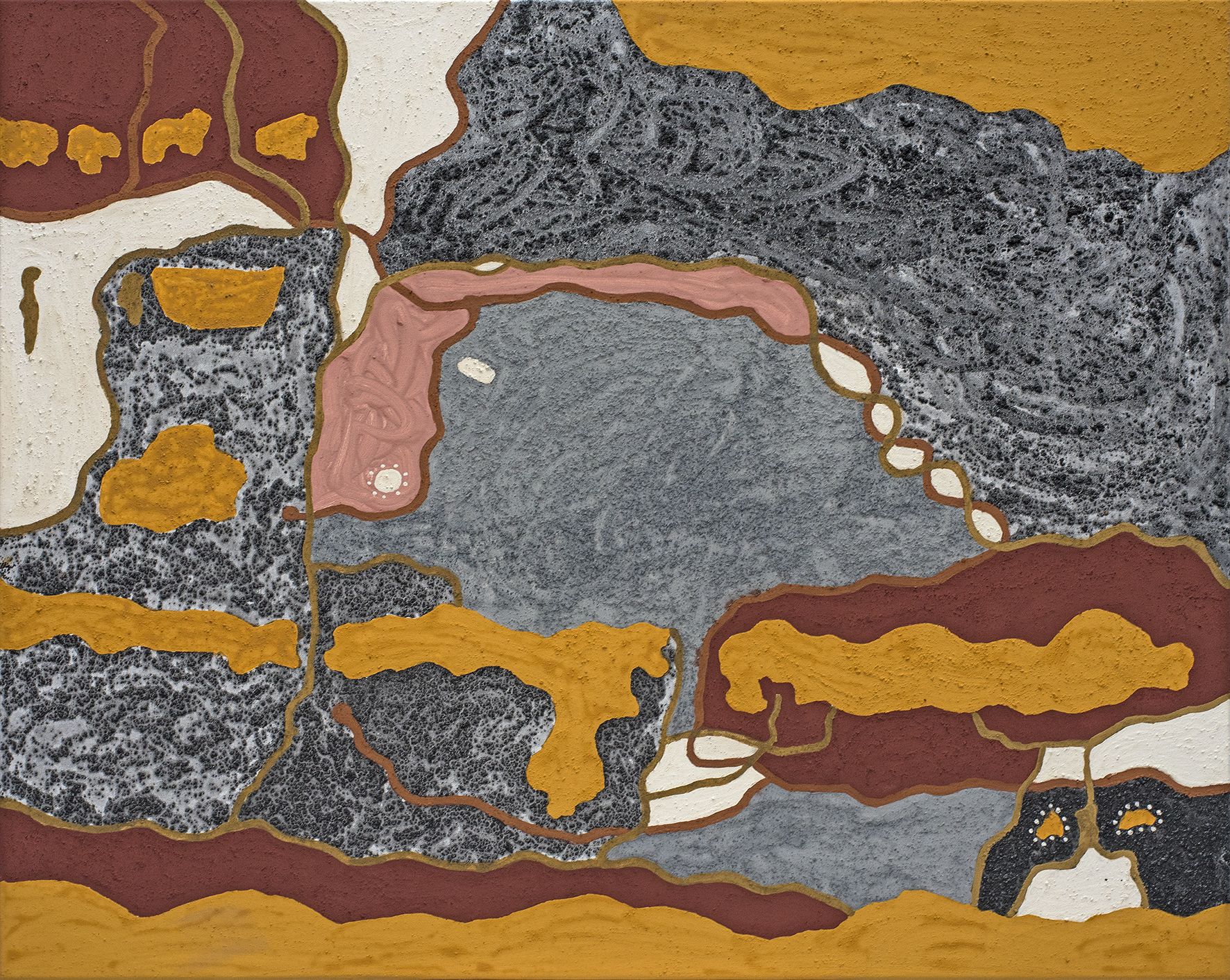 Lindsay Malay - My Ganggayi Country - 100 x 80 cm - 356/18 (sold)
Titre de l'œuvre : My Ganggayi Country
Artiste : Lindsay Malay (1971)
Format : 100 x 80 cm
Provenance et certificat : centre d'art aborigène de Warmun
Référence de cette peinture d'art indigène d'Australie : 356/18
© Photo : Aboriginal Signature Estrangin gallery with the courtesy of the artist and Warmun Arts.
Explication sur cette œuvre d'art Aborigène :
This painting represents my ancestral connection through my (grandmother's) this country is on Yulumbu (Tableland) and part of the Mornington pastoral leases. The top left corner is Rockybar. Rockybar is one of our hunting grounds and also a place for gathering bush tucker, Rockybar known to Gija people as Wiludngaire, is also one of our catchments that runs into the Chamblain River to the East. Why the place is special to me because i caught a black bream there, from history to generation to generation, our old people would share Ngarranggarni stories to us (dream time stories). This fish i caught looked deformed and instantly, and i believed this fish was my unborn child. In Gija this is what we call Judinbar; or reincarnation, i shared this feeling with my step dad and others at that time, i also went home and shared this with my brother, sisters and family. Several months past and my youngest sister gave birth to her first child (baby girl). The midwife was surprised to see a birth mark on the side of her ribcage with the marking of a fish, my niece before human life. From the experience of catching this fish in Rockybar, i understood about my people, and how we have a strong connection with our land, dream 􀆟me stories and our culture before human life. We come from our land as some form of animals or plants and bush fruits, and we we call that Judinbar (Reincarnation).
The top right corner is my home, Bulgundi. Bulgundi been my family's traditional homeland for many, many generations. When the Pastoral came they claimed this land as part of the Tableland Station Pastoral Lease and my surviving family were forced off the land in the 1970s.
In about 1995, when i visited Bulgundi for the first time, i felt a strong spiritual connection of belonging and i decided i would fight to reclaim the land.
Over the next 15years i fought to have Bulgundi. We were success in claiming the land and Bulgundi now belongs to me and my family again.
This land is at the centre of Gija land, and is the highest point in the Kimberley Ranges. It is a water catchment area and where much the water that flows in to the Kimberley begins its journey. It is where the King Leopold Range and the Fitzroy River start.
TO ME, BULGUNDI IS WHERE LIFE BEGINS.
The left hand bottom corner represents part of the Yulumbu lease, and my Ganggayi Gountry is a small portion of it, sittng in the top left of the larger lease area. My Ganggayi country is bigger than the area my family have claimed, it runs along the top of the Yulumbu lease. It is also known as Warlawoon. My family was recognised as traditional owners because Buddubodyn lived there. He would walk down to Crocodile Gorge and up to Tableland Station to visit his people. He would get tobacco, tea, sugar and flour and then head back to Warlawoon. He was a bushman living in the traditional way.
On the bottom right hand corner represents Red Spring, which is on the boundary of Yulumbu and Mornington leases. This is about a little boy who was taken away while hunting for sugarbag (bush honey). Eventually our magic people went to find the young fella and bought him back home.
Vendue